Goals of the Rainer Rudolph Foundation
The major aim of the Rainer Rudolph Foundation is to promote and support basic and applied research in the area of Protein Biochemistry and Biotechnology. Young scientists who have made outstanding advances in these fields can be nominated for the Rainer Rudolph Prizes and have the possibility to receive an award. Awardees are asked to present their achievements to the public during a conference focusing on Protein Biochemistry. In addition, scientific meetings and congresses are being supported by the Foundation.
Members of the Rainer Rudolph Foundation:
Steering Committee
Dr. Jörg Schäffner
Prof. ret. Dr. Elisabeth Schwarz
Dr. Uli Opitz
Board of Trustees
Dr. Dorothee Ambrosius
Prof. Dr. Johannes Buchner
Prof. Dr. Rudi Glockshuber
Dr. Ulla Grauschopf
Prof. Dr. Reinhard Sterner
Treasurer
Annett Großmann
---
Rainer Rudolph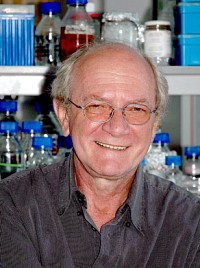 Rainer Rudolph (1949 – 2009) received his PhD in 1978. His experimental work was performed in Rainer Jaenicke´s department in the Institute of Biophysics and Physical Biochemistry at the University of Regensburg. Rainer Rudolph subsequently went to the US for a postdoctoral stay in the lab of Harold Scheraga, Cornell University, Ithaca. In 1984, he received his habilitation in Regensburg.
In 1987, he started to work for the company Boehringer Mannheim (now Roche Diagnostics). In 1994, he was appointed to a full professorship in Biotechnology at the Martin Luther University Halle-Wittenberg, where he established a highly successful research group. He was one of the founders of the company Scil Proteins Ltd (BioNet Holding Ltd).
In 2005, Rainer Rudolph was elected as a member of German National Academy of Sciences, Leopoldina. Through his creativity and entrepreneurship Rainer Rudolph combined in an ideal way basic and applied aspects of Protein Science. Throughout his life, he encouraged and helped young scientists to thrive in the fields of Biochemistry and Biotechnology.